OPGW with Central Stainless Steel Loose Tube Mainly used for power communication with accessories,relay protection,automatic transmission,installation together with high-voltage lines. As an OPGW manufacturer and OPGW supplier in China, there are various styles of OPGW available to a power utility. Each OPGW style varies in its maximum fiber count. As OPGW manufacturer, OEM production is accepted.
The central stainless steel tube is surrounded by single or double layers of aluminum clad steel wires(ACS) or mix ACS wires and aluminum alloy wires. are the most widely used cables ,their design is fully adapted to the most common electric line needs.
The center stainless-steel tube is twisted with 1 to 2 layers of monofilament, which can be all-aluminum-clad steel wire or a mixed-stranded aluminum-clad steel wire and aluminum alloy wire.
Product Name of OPGW:
OPGW With Central Stainless-Steel Loose Tube
Applications of OPGW:
Replacement of existing ground wires and reconstruction of old lines.
OPGW optical cables are mainly used on 110KV, 220KV, 550KV voltage level lines, and are mostly used in newly-built lines due to factors such as line power outages and safety
Lines with high voltage exceeding 110kv have a larger range (generally above 250M).
Easy to maintain, easy to solve the problem of line crossing, and its mechanical characteristics can meet the line of large crossing;
The outer layer of OPGW is metal armor, which does not affect high voltage electric corrosion and degradation.
OPGW must be powered off during construction, and the power loss is relatively large, so OPGW should be used in newly built high-voltage lines above 110kv.
Features of OPGW:
 Small cable diameter, light weight, low additional load to the tower.
 The steel tube locates at the center of the cable, no second mechanical fatigue damage.
 Low resistance to side pressure, torsion and tensile (single layer).
The cable diameter is small, the weight is light, and the short-circuit current capacity is small.
The tensile strength and short-circuit current capacity are larger, and the mechanical performance and electrical performance are better balanced.
Slightly poor tensile, torsion and lateral pressure resistance.
It is suitable for the transformation of general old lines, and the optical fiber has good strain characteristics under high tension.
Parameter of OPGW:
A: Typical design for Single Layer: 
B:Typical design for Double Layer:

Standards of OPGW:

Package:
1-5KM per roll. Packed by steel drum . Other packing available according to client`s Request.
The cables are packed in carton, coiled on Bakelite & steel drum. During transportation, right tools should be used to avoid damaging the package and to handle with ease. Cables should be protected from moisture,kept away from high temperature and fire sparks,protected from over bending and crushing,protected from mechanical stress and damage.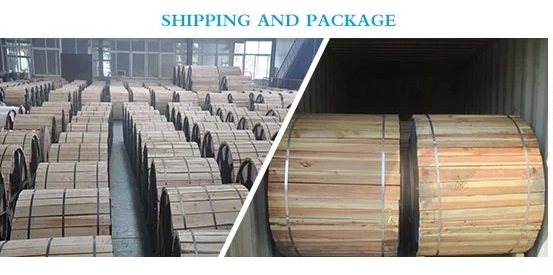 Are you interested in our products? Contact us now.