ADSS cable manufacturer offers all types of ADSS cable, which is also called all-dielectric self-supporting optical cable.
Double Jacket All-Dielectric Self-Supporting (ADSS) Optical Fiber Cable provides reliable self-support performance for up to 1500 meters. Each Long Span ADSS cable is custom engineered for optimum placement on utility towers and to operate under full weather load, ensuring safe reliable lifetime performance. For installation on high-voltage lines up to 275 KV, an optional track-resistant jacket prevents dry-band arcing damage. Fiber counts is available up to 288 fibers.
The excellent quality and service of ADSS cable have won the praise of a large number of customers at home and abroad, and the products are exported to many countries and regions such as South and North America, Europe, Asia and UEA. We can customize the number of cores of ADSS fiber optic cables according to customer needs. The number of cores of optical fiber ADSS cable is 2, 6, 12, 24, 48 cores, up to 288 cores.
Cable Type: Full Dry, Dry Core, No Jelly, No Gel
Fiber Count: 2-288 Core Is Avarilable
Fiber Type: G652D; G655C; 657A1; 50/125; 62.5/125; OM3; OM4 As Options
Span Distance: 200M-1000M,can be Customized
Application: Aerial,direct Buried,duct
Outer Sheath Material: MDPE,HDPE Or AT
Strength Member: Kevlar/Aramid Yarn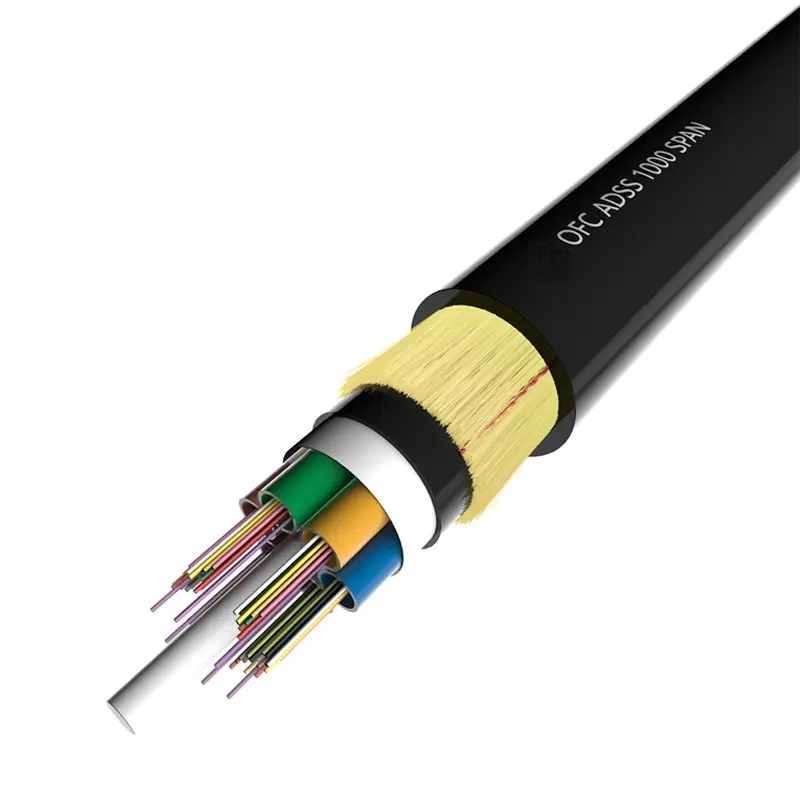 Features:
Number of fibers from 2 to 288
Enhanced technology enables efficient, cost-effective large-scale welding
Customized design by application
ZMS's water blocking technology makes the cable core more process-friendly
Increase bandwidth and carrying capacity in high-density applications
High-efficiency, low-cost large-scale welding, which can simplify installation and save labor costs
Depending on sag and load conditions, excellent performance is suitable for spans up to 1500m
Standrads:
IEEE 1222,
IEC 60794-4-20,
ANSI/ICEA S-87-640,
TELCORDIA GR-20,
IEC 60793-1-22,
IEC 60794-1-2,
IEC 60794 .
Parameters:
How to order?
Please let us know your requirement as follows in order that we offer you a reasonable price.
Power transmission line voltage level
Fiber count
 Span or tensile strength
 weather conditions
Are you interested in our products? Contact us now.