The Fast Connector (Field Assembly Connector or Field terminated fiber connector, quickly assembly Fiber connector) is a revolutionary field installable optical fiber connector that requires no epoxy and no polishing, The unique design of the patented mechanical splice body incorporates a factory-mounted fiber stub and a pre-polished ceramic ferrule. Using this onsite assembly optical connector, it is possible to improve the flexibility of optical wiring design as well as reducing the time required for fiber termination. The Fast connector series are already a popular solution for optical wiring inside buildings and floors for LAN & CCTV applications and FTTH.
The Field Assembly SC/PC SC/APC SC/UPC Fast Connector
For FTTH can provide a quick and easy termination of fibers in the field. Options are available for 900 micron allowing the installer to terminate and make connection in minutes at equipment and fiber patch panels. This connector system removes any requirement for epoxy, adhesives or costly curing ovens and polishing and fibe ederface inspection.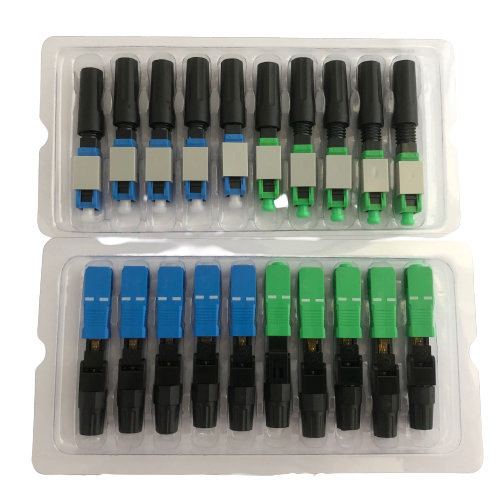 Specifications:
| | |
| --- | --- |
| Fiber diameter | 125μm ( 657A & 657B ) |
| Application Scope | 3.1 x 2.0 mm butterfly optical cable |
| Fiber Type | Singlemode |
| Insertion loss (db) | Maximum≤0.5DB, Mean≤0.3DB |
| Tensile strength |  -50 N |
| Bare fiber tightening force | -3N |
| Tight cladding clamp force | -8N |
| Assembly times | -10 |
| Return loss(db) | UPC≥45DB, APC≥50DB |
| Polishing type | UPC and APC |
| Operation time | About 15s (exclude fiber cut) |
| Success rate |  – 98% |
| Operating Temperature | -40°C to + 85°C |
| | |
| --- | --- |
| Fiber diameter | 125μm ( 657A & 657B ) |
| Application Scope | 3.1 x 2.0 mm butterfly optical cable |
| Fiber Type | Singlemode |
| Insertion loss (db) | Maximum≤0.5DB, Mean≤0.3DB |
| Tensile strength |  -50 N |
| Bare fiber tightening force | -3N |
| Tight cladding clamp force | -8N |
| Assembly times | -10 |
| Return loss(db) | UPC≥45DB, APC≥50DB |
| Polishing type | UPC and APC |
| Operation time | About 15s (exclude fiber cut) |
| Success rate |  – 98% |
| Operating Temperature | -40°C to + 85°C |

Functions:
– No special tools needed when installed
– Without any gluing and polishing process
– Can be made on-site without splicing connectors
– Only 30 seconds needed to learn the process of installation
– Good high temperature performance and good sealing
– Easy installation, quick and fast in the assembly field
– High return loss and low insertion loss
Applications:
– Distribution Frames & Patch Panels
– Fiber Optic Patch Cord & Pigtail
– Telecommunication Networks
– Data Processing Networks
– FTTH (Fiber To The Home)
– Local Area Network (LAN)
– Test Equipment.
– CATV & CCTV