This is plug type accessories,also named Separable Connectors.It includes separable Elbow,straight and Tee connector kits. Our separable connectors are widely used in switchgears,transformers,cabinets and other electrical equipments.It is made of EPDM or silicone rubber with integrated field control.And adopts advanced triple-layer( a conductive inner layer,an insulation layer and a conductive outer layer) injection technique to guarantee the interface property to avoid gaps between layers and decrease partial discharge maximally.Our separable connectors are mainly includes IEC type & IEEE type.
Standard:
EN 50181 Plug-in type bushings above 1kV up to 52kV and from 250A to 2.5kA for liquid filled transformers.
EN 50180 Bushings above 1kV up to 36kV and from 250A to 3.15kA for liquid filled transformers.
HD629.1 Test requirements on accessories for used on power cables of rated voltage from 3.6/6(7.2)kV up to 20.8/36(42)kV-Part 1:cables with extruded insulation.
IEC 60502.4 Power cable with extruded insulation and their accessories for rated voltages from 1kV(U=1.2kV)up to 30kV(U=36kV)-part 4:test requirements on accessories for cable with rated voltages from 6kV up to 30kV(U=36kV.
lEc60099 Metal oxide surge arresters without gaps for A.C.systems.
JB/T 8952 Polymer-housed metal oxide surge arresters without gaps for A.C.systems.
IEEE 386 Separable insulated connector system for power distribution system above 600V.
GB11032 Metal oxide surge arresters without gaps for A.C.system.
JB/T 8952 Polymer-housed metal oxide surge arresters without gaps for A.C.systems
Type:

Size:

1.Operating Ring: One-piece molded stainless steel operating ring with spring clip fixing poin.
2.Insulating layer: special formula and mixing technology to ensure high quality of prefabricated rubber
3.Internal semi conductive layer: prefabricated inner semi conductive layer to effectively control the stress of electric field.
4.Outer semi conductive layer: The prefabricated outer semi conductive layer adheres closely to the insulating layer and ensures that the outer semi conductive layer is grounded.
5.Arcing rod: Tin-plated copper rod with arc extinguishing function, , Use a wrench to screw it into the conductive connection in the device.
6.Terminals: All copper or copper and aluminum crimp terminals for copper or aluminum conductor.
7.Voltage test : it is used to test whether the line is electrified or not and the live indicator is used
Parameters:
 
15kV:

25kV:

 35kV:

Application:
15kV/25kV/35kV 200A Elbow Type Separable Connector
Separable connector is fully insulated, fully sealed connector, is widely used in outdoor power distribution Transformer, American cabinet type transformer , ring main unit and cable branch box, buried transformers and other electrical equipments.
It can be installed on outgoing line of 200A T type connector,200A Busbar,single-pass (Double type) apparatus bushing and load conversion connector of American cabinet type transformer.
Test points can be installed live monitor, in order to check the charged state of the equipment, but also to meet the nuclear phase requirements.
Conductive rod connector arc extinguishing material, it can be charged in the state operation, but can not cut off the short-circuit current; can be used as the load switch to open the current 200A.
Applicable for XLPE cable cross-section 25mm² ~ 400mm².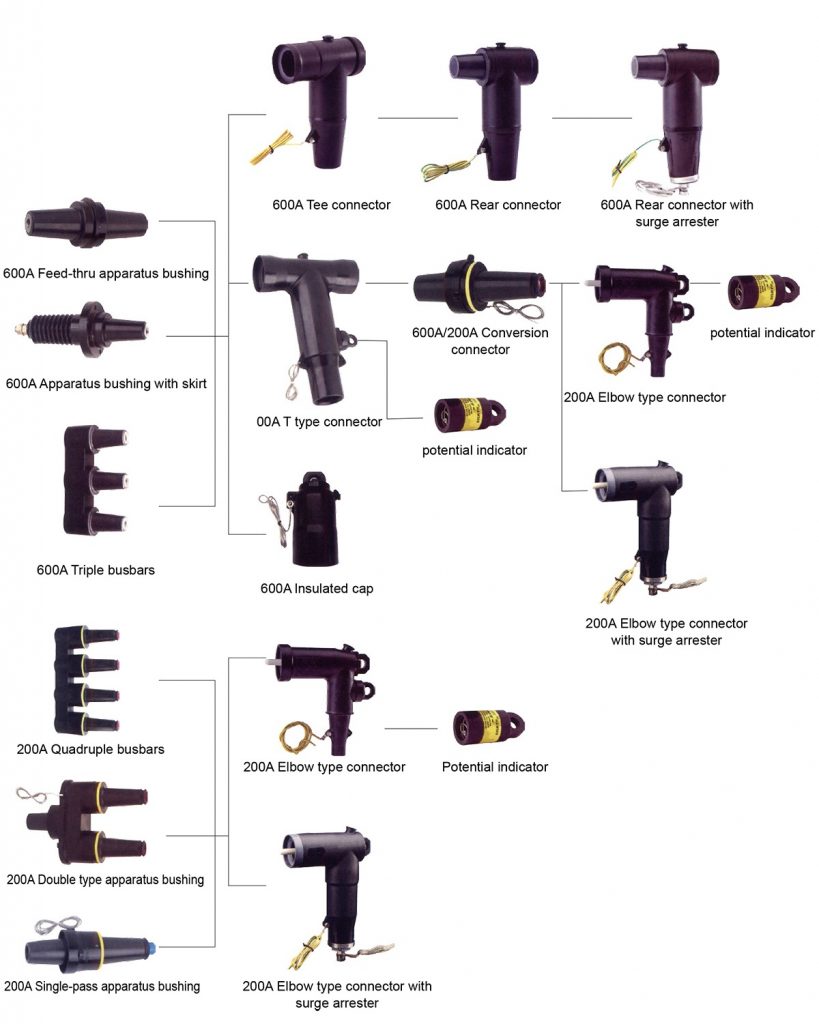 Packing list:
15 KV: 3 pcs/ carton G.W: 3kg   Carton size: 24.5cm×21cm×21cm
25 KV: 3 pcs/ carton G.W: 9kg   Carton size: 34cm×27cm×21cm
35 KV: 1 pcs/ carton G.W: 5kg   Carton size: 28cm×28cm×10cm