This is plug type accessories,also named Separable Connectors.It includes separable Elbow,straight and Tee connector kits.Our separable connectors are widely used in switchgears,transformers,cabinets and other electrical equipments.It is made of EPDM or silicone rubber with integrated field control.And adopts advanced triple-layer( a conductive inner layer,an insulation layer and a conductive outer layer) injection technique to guarantee the interface property to avoid gaps between layers and decrease partial discharge maximally.Our separable connectors are mainly includes IEC type & IEEE type.
EN 50181 Plug-in type bushings above 1kV up to 52kV and from 250A to 2.5kA for equipment other than liquid filled transformers.
EN 50180 Bushings above 1kV up to 36kV and from 250A to 3.15kA for liquid filled transformers.
HD629.1 Test requirements on accessories for used on power cables of rated voltage from 3.6/6(7.2)kV up to 20.8/36(42)kV-Part 1:cables with extruded insulation.
IEC 60502.4 Power cable with extruded insulation and their accessories for rated voltages from 1kV(U=1.2kV)up to 30kV(U=36kV)-part 4:test requirements on accessories for cable with rated voltages from 6kV up to 30kV(U=36kV.
lEc60099 Metal oxide surge arresters without gaps for A.C.systems.
JB/T 8952 Polymer-housed metal oxide surge arresters without gaps for A.C.systems.
IEEE 386 Separable insulated connector system for power distribution system above 600V.
GB11032 Metal oxide surge arresters without gaps for A.C.system.
JB/T 8952 Polymer-housed metal oxide surge arresters without gaps for A.C.systems
Parameters:
This is type 35kV 630A IEC Tee connector,which is suitable for the Terminal of incoming and outgoing feeder (XLPE power cable) of Ring main unit,and connect with the sleeve socket of switchgear, wall bushing of  cable branch box and the bolts of Double type apparatus bushing. It also is used in the station-type substation installations.
Provide fully insulated, hermetically sealed connection of power cables to switchgear or cable branch boxes.
Front end works with a bolt connected to the socket of switchgear, the tail can be plugged directly with insulating plug, and can also be extended after the connection.
Plug-in cable plug or rear arrester.
The product interface complies with the standard of EN50180-50181 and IEEE386.
It is made in high quality EPDM rubber, which not only has excellent electrical performance, but also tear, ozone resistance, oxidation resistance, corrosion resistance,High mechanical strength.
Adopt the international advanced technology of three-layer injection molding,It effectively guarantee the good performance of the interface, to avoid the gap between the layers,and Reduce partial discharge.
Good design of inside and outside the screen makes Electric field structure more optimized; uniform external shielding, grounding resistance of less than 5000 Omega, the use of cable head outer surface effectively maintain zero potential, ensure the operation safety.
The stress body with non-slip design can effectively prevent the installation of stress body misplaced accidents.
Good thermal stability, good thermodynamic properties, and good sealing performance. It can be run underwater.



Size: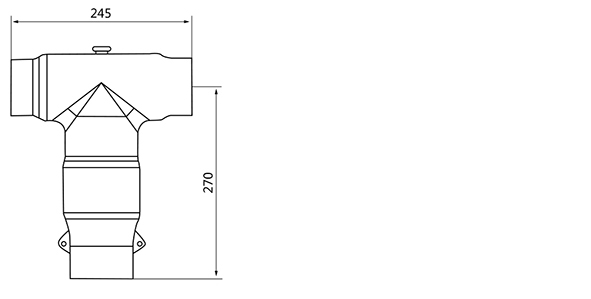 Type:

Application:
35kv 630A IEC Type Separable Connectors And Kits