This is plug type accessories,also named Separable Connectors.It includes separable Elbow,straight and Tee connector kits. Our separable connectors are widely used in switchgears,transformers,cabinets and other electrical equipments.It is made of EPDM or silicone rubber with integrated field control.And adopts advanced triple-layer( a conductive inner layer,an insulation layer and a conductive outer layer) injection technique to guarantee the interface property to avoid gaps between layers and decrease partial discharge maximally.Our separable connectors are mainly includes IEC type & IEEE type.
Standard:
EN 50181 Plug-in type bushings above 1kV up to 52kV and from 250A to 2.5kA for liquid filled transformers.
EN 50180 Bushings above 1kV up to 36kV and from 250A to 3.15kA for liquid filled transformers.
HD629.1 Test requirements on accessories for used on power cables of rated voltage from 3.6/6(7.2)kV up to 20.8/36(42)kV-Part 1:cables with extruded insulation.
IEC 60502.4 Power cable with extruded insulation and their accessories for rated voltages from 1kV(U=1.2kV)up to 30kV(U=36kV)-part 4:test requirements on accessories for cable with rated voltages from 6kV up to 30kV(U=36kV.
lEc60099 Metal oxide surge arresters without gaps for A.C.systems.
JB/T 8952 Polymer-housed metal oxide surge arresters without gaps for A.C.systems.
IEEE 386 Separable insulated connector system for power distribution system above 600V.
GB11032 Metal oxide surge arresters without gaps for A.C.system.
JB/T 8952 Polymer-housed metal oxide surge arresters without gaps for A.C.systems
Type:

Size: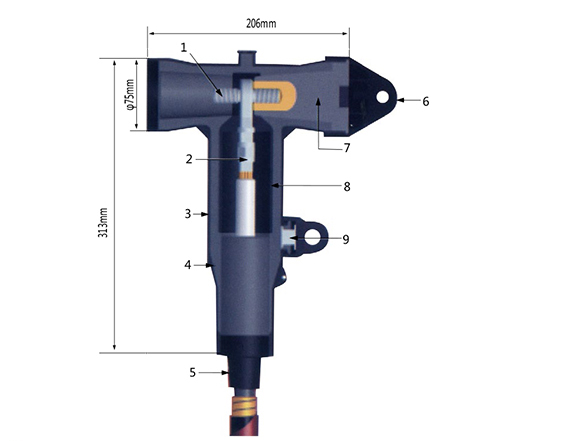 1.Bolt stud:adopt stainless steel bolts to ensure conductor and sleeve close fit.
2.Insulating layer: special formula and mixing technology to ensure high quality of prefabricated EPDM rubber
3.Internal semi conductive layer: prefabricated inner semi conductive layer to effectively control the stress of electric field.
4.Outer semi conductive layer: The prefabricated outer semi conductive layer adheres closely to the insulating layer, which ensures that the outer semi conductive layer is grounded.
5.Insulating plug:Epoxy resin insulating plug with threaded metal parts to ensure close cooperation with the stud.
6.Semi-conductive end cap:seal the end of the cable connector, so that the device has a full-screen, all-sealed function.
7.Stress cone:Different size of the stress cone with the use of cable connectors, to ensure water seal and cable stress release.
8.Grounding hole: Pre-wired to the outer shield for ground wire connection.
9.Terminals: All copper or copper and aluminum crimp terminals for copper or aluminum conductor.
10.Voltage test : it is used to test whether the line is electrified or not and the live indicator is used
Parameters:


Application:
15kv 600A/20kv 600A T Type Connector Cable Accessories
T type connector is all-insulated, fully sealed, used for underground high-voltage cable connection, for example, the American cabinet type transformer , ring main unit and cable branch box.
Continuous operating current is 600A, connect the cable of relevant specifications, For convenience and quickly to find the fault,install potential indicator on the test point , and can also install the cable fault indicator
When the T type connector connect with 600A / 200A load Conversion connector,it can convert 600A line to 200A line, then connect to 200A Elbow type connector and Elbow type connector with surge arrester.